Terracotta pots
The most popular plant pot; the terracotta pot! Terracotta is unglazed earthenware. The terracotta pot is so popular because it really fits within any style. Are you a terracotta collector or do you combine these pots with other materials?
Delivery

throughout Europe

Free shipping for orders over €75,-
Terracotta
Terracotta is baked clay. Terracotta is porous, which is why it is an ideal material for flower pots. It ensures that the plant's roots will never stay wet for too long. Besides the classic terracotta pots, we also have many unique and special flower pots made of terracotta. With the terracotta from PLNTS.com, you will give your home, garden or balcony a beautiful look. Your plants will also be happy in a terracotta pot.
Terracotta pot with saucer
Most terracotta pots have a hole at the bottom. This ensures that excess water can drain away properly. Because of the porosity of terracotta and the hole in the bottom of the pot, it is wise to place a saucer under the pot. The terracotta saucers that match the terracotta pots are siliconised, making them waterproof. 
Buy terracotta pots online at PLNTS.com
At PLNTS.com, we have terracotta pots in many different sizes. For example, we have terracotta pots for mini plants and for very large plants. You will find the right terracotta pot for every plant at PLNTS.com.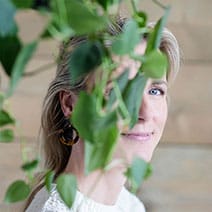 Hi, I'm Emma, your PLNTS.com guide!