Animal-friendly houseplants
Attention plant and animal lovers! An animal and child-friendly houseplant is ideal if, in addition to a love for plants, you have small children and/or are crazy about four-legged friends. These houseplants are non-toxic and can therefore be perfectly placed in your home without having to worry about the dog, cat or toddler walking through your house. In our shop you can easily filter our plants for pet-friendly plants. This way you know for sure that you can place this green plant without having to worry about the health of your little one or pet.
Delivery

throughout Europe

Free shipping for orders over €75,-
Top 5 animal and child-friendly houseplants
A few houseplants in different shapes, sizes and heights and you can create your own green jungle in no time. It is logical that children and four-legged friends go on a discovery and sniff at the plants. Keep in mind that there are many plants that are poisonous and even dangerous for those adventurers. We have already selected 5 animal- and child-friendly house plants that are not poisonous for you!
Pilea Peperomioides
With 'Pancake plant' as a nickname, the Pilea Peperomioides is of course number 1 in the list of child-friendly plants. It is also non-toxic to pets! This plant multiplies quickly and makes for a cozy plant family.
Calathea Medallion
You can place the beautiful Calathea Medallion in your living room without having to worry. With her multicolored foliage and beautiful deep purple underside, she is a special sight for curious children and pets to discover.
Musa Dwarf Cavendish
This exotic appearance is also perfect for placing between kids and four-legged friends. And in addition to her looks, the Musa Dwarf Cavendish also has air-purifying superpowers that remove chemicals from the air in your home!
Ceropegia Woodii 'String of hearts'
The Chinese Lantern Plant is a super nice addition to anyone's interior. It is a creeping plant that can grow and hang its strands up to 3 meters. This also makes her an easy prey for small kids and pets. Fortunately, the Ceropegia Woodii is not poisonous, so don't worry! Do you want to keep her beautiful? Then put her (even) higher!
Hemionitis Arifolia
This tropical fern from Asia is a real eye-catcher with her graceful heart-shaped leaves. It makes sense that she also attracts the attention of children and pets! You can safely place this plant in your room, because it is not poisonous. Want some extra green in your interior? The Hemionitis Arifolia is perfect!
Caring for animal and child-friendly house plants
After you have found the suitable animal and child-friendly houseplant, you must of course take good care of it. For example, pay attention to animal and child-friendly care products. Do not use granular fertilizer. Pets in particular can sometimes confuse this with a treat or toy and remove the granules from the potting soil. In addition, animal and child-friendly house plants also need enough love, attention and the right care.
Light
The amount of light your plant receives has everything to do with the location of the plant. Is she in a sunny spot or in a spot with more shade? When it comes to light, there are also plants that are super easy and thrive in any place. Still, every plant needs a little light to grow well. Always check beforehand which light makes your plant happiest!
Water
How much water your houseplants need also depends on the amount of light they get. Usually, the more light, the more heat and the more water the plant needs. By the way, too much water is one of the biggest causes that a plant does not survive. So make sure you always give small amounts instead of a large splash all at once. This prevents your plant from getting wet feet and root rot as a result. Some plants also like it when you spray its leaves with the plant sprayer once in a while.
Nutrition
So granules are a no-go. Rather use a liquid fertilizer, such as our PLNTS fertilizer. Give the food once every 1 to 2 weeks during the growth period of your plant. Each bottle contains a selection of the most nutritious ingredients in an extra concentrated form, so it lasts a long time. And the best thing is… it's 100% organic and non-toxic to humans and animals! In the winter months, October to February, you can halve the dosage, because then your plants need less nutrition. Give your plant a boost with the PLNTS fertilizer.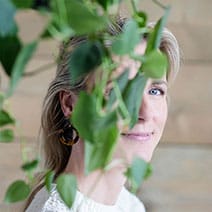 Hi, I'm Emma, your PLNTS.com guide!