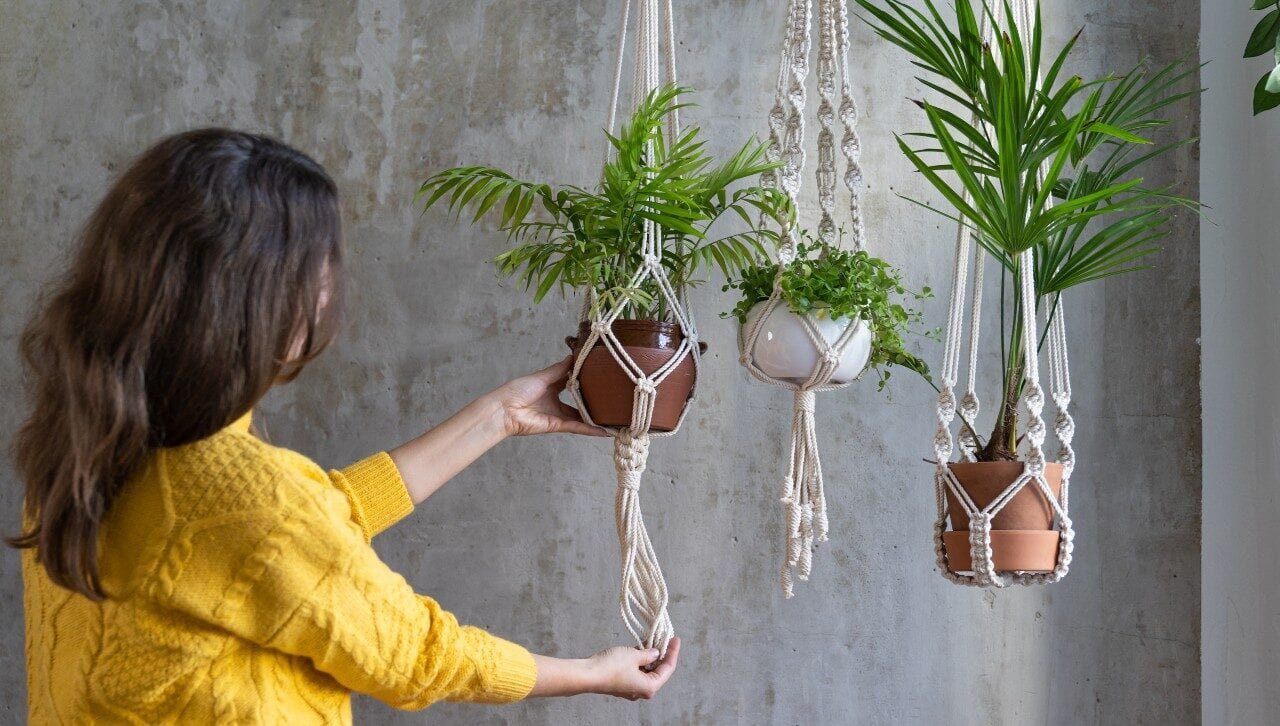 DIY summer activity: How to make your own amazing plant hanger!
Let's get creative with this beautiful new #DIYPLNTS ! How much fun would it be to be able to make your own plant hanger? This DIY plant hanger can fit in any interior and is a new and fun way to store your most beautiful plants. Attach it to the ceiling or high up on the wall and you can see your PLNTS from every angle in your home!
To create this hanger we are going to use the macramé technique. It could be you have seen this knotting technique before, because it was founded in the 13th century and loved by so many people since then. You can use all different kinds of materials to make the most beautiful macramé pieces. For our plant hanger we use a thick natural coloured rope to make the hanger look chunky. This will also make sure that it will be strong enough to hold your favorite plant and pot safely. The bigger the rope, the better you can see the knots you have made as well.
How to start:
Macramé makes it possible to combine creativity with functionality due to the wide variety of objects that can be made. It is quite easy to learn, inexpensive and amazingly relaxing. Another great feature is that the tools needed to create a macramé hanger are quite simple. You don't need to be an Macramé expert!
What do you need?
Rope (included)
Wooden ring (included)
Wooden beads (included)
Scissors
Tape measure
Adhesive tape (this isn't necessary but helps you to get the rope ends easier through the beads, tape the ends and you can remove it afterwards)
Decorative pot
Hanging plant
Time to knot!
We used a hook on a rack to hang the ring, but you can also use a door handle or a clothes hanger, which are present in every home. Hanging the ring and the rope a little higher while tying the knots is a lot more comfortable because you don't have to sit on your knees.
With the tape measure you need to cut 6 wires of 5 meters and put them through the ring. After that, the pattern will tell you what to do. We use 3 types of knots and in the steps and the video below we show you how we did it.
Step 1: preparing time!
Cut 6 strings of 5 meters. You can possibly tape the ends of the strings with adhesive tape to prevent it from fraying.
Step 2: tie the knot
Pull the 6 strings half way through the ring. You now have 12 strings of 2.5 meters. Cut a thread of 70cm. Tie a gathering knot with this 70cm string to keep all the strings together.
Step 3: divide into groups and tie square knots
Divide the 12 strings into 3 groups of 4 strings. Tie 6 square knots under each other with each group of strings.
Step 4: pull through the wooden bead and tie square knots
Leave a space of roughly 10cm under the 6 square knots. Take the middle 2 strings of the 4 strings you used for the square knots and pull the 2 middle strings through the wooden bead. Then tie 14 square knots below each other. Repeat this under the other 6 square knots.
Step 5: tie more square knots and regroup the strings
Leave 12cm free under the 14 rotating square knots. Regroup the strings so that they each intertwine with the other, this means taking two strings from one group and two strings from the next group. Tie a square knot at all 3 points.
Step 6: repeat
Repeat step 5, but leave 8cm space below the square knots you made in the previous step.
Step 7: tie a final knot
Finally get all the strings together and tie a gathering knot also with 8cm space inbetween.
Step 8: final touch
Cut the remaining strings to desired length and comb (not necessary) them out slightly.
Time to shine!
When you finished the pattern and ended with the last gathering knot to bring the 6 threads together, you can either comb the ends or leave the threads as they are. This is your creation so feel free to do what you love!
This is the moment you have been waiting for, it is time to let her shine in the room with your favourite (hanging) plant. You can hang her from the ceiling, on the wall or even on a clothing rack. We see this being done a lot in our PLNTScommunity.
The PLNTSfamily loves to be creative and we can only tell you how satisfying and rewarding it is to make your own creations. However, if you're not feeling quite so creative, luckily we also have plant hangers that are good to go and ready to light up your room. But remember, great things never come from comfort zones.
Share your beautiful Macramé Plant Hanger with the hashtag #DIYPLNTS, this way you can also see how others in the PLNTScommunity have done it.
Good luck PLNTSlovers!
Lisa
Plants make Lisa very happy and she is secretly addicted to buying lots of BabyPLNTS. She loves to inspire the community with fun content, from styling tips to plant care to new products!
November 04, 2021
Free shipping from €75,-
We ship our plants all over Europe!
Delivery

throughout Europe

Free shipping for orders over €75,-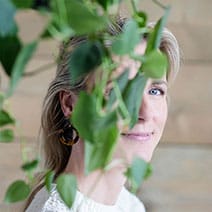 Hi, I'm Emma, your PLNTS.com guide!