Transforming Your Home with Summer Styling in 2023
Isn't summer time inspiring? We think it is and for some reason we feel like this is a perfect time for some redecorating! Maybe this has to do with the fact that we generally all love summer and feel energised to take on some creative projects. Well, if you are wired that way we are here to help. We have made this blog that has 5 style trends of 2023. Are you curious yet? Let's get into it!
Neutrals are back baby
Did neutrals even go out of style? We don't think so, but this year they are making everybody fall in love with this style again. Neutral tones can be really soothing and compliment the green colour of plants so well. This style makes use of lots of different textures, which is so mesmerising to look at!
You can recreate this look by adding lots of nude colours around the house. Make sure to have plant pots that match and have a few big statement plants and smaller plants on shelves to make everything cohesive.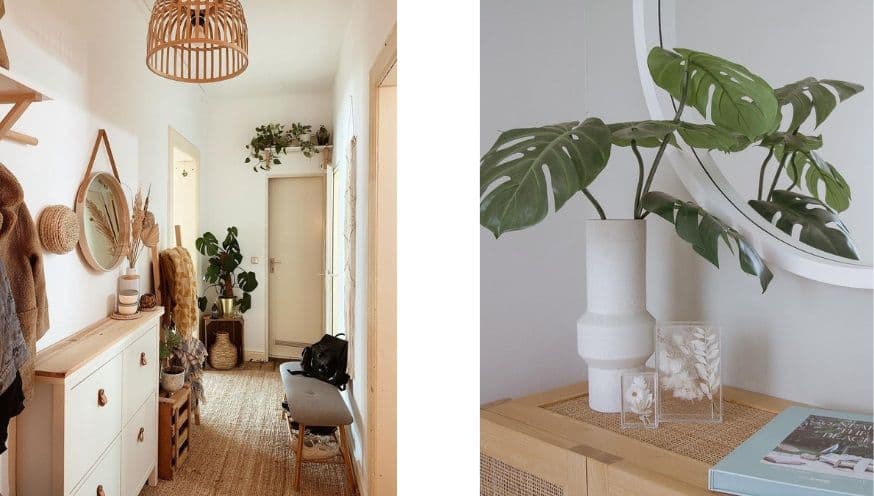 Photo by @fleurrell & @leschelleleonhardt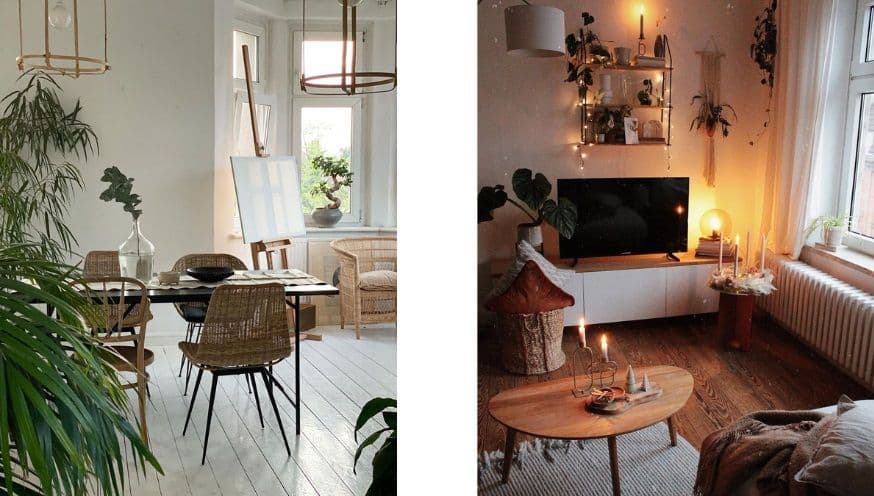 Photo by @margo.hupert.art & @fleurrell
Maximalism
Minimalism, who? This style focuses on the exact opposite as minimalism, prints, textures, patterns and colours, but with a modern twist. You can imagine that plants fit beautifully into this style, since you have so many shapes, textures and prints to choose from.
If you would like to recreate this style, we would suggest giving your imagination some freedom. You can use your favourite colours, no matter the brightness. Combine this with fun textures and prints. Of Course colourful plant pots and plants with prints can't be missed from your house when decorating according to this style.
Photo by @white_rabbit_living & @ourlayeredhome
Photo by @tsubakiroom & @ourlayeredhome
Sustainability
Sustainability is a worldwide known term that is becoming more of a trend in decor these days. You might wonder how, well, by reusing old furniture and even remaking or restoring it. Or making something from organic materials that you can use as house decorations or by buying products second hand. You can imagine that this trend can look very versatile, but it is more the idea behind styling that is trending in 2023.
You can recreate this by crafting decor from organic materials, by painting that old cabinet to make it fun and your style again, or by restoring furniture that has seen better days. Of course plants can't miss this style. When shopping for pots, you can go for sustainable materials, such as plaster, recycled plastic or terracotta.
Photo by @ahomeofhappiness/ & @studio_jatan
Photo by @didyouseeadam & @dingleydellcreative
As good as gold
In 2023 golden tones are highly loved by interior lovers. This luxe style gives a warm feeling, as you would get when looking at an orange sunset, and who doesn't like that? And do you know what compliments these warm tones perfectly, yes plants! Terracotta pot hasn't been loved by PLNTSlovers just because of the function, but also since this earth orange tone is a perfect match for the lush green leaves of our plants!
If you would like a golden decor, you can choose a warm wall colour, choose furniture made from wood or earthy toned and other earthy toned decor to compliment this look. Any plant can shine in this interior and earth tones pots will be a perfect match!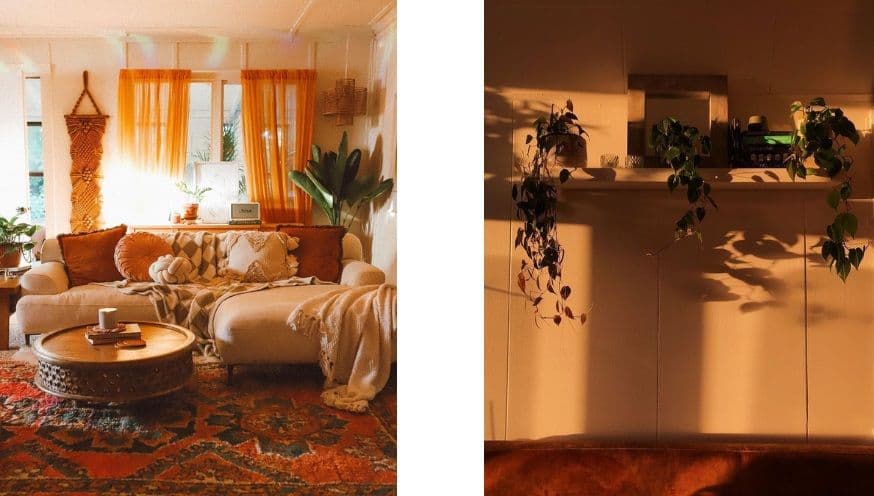 Photo by @goldenhourabode & @rosemilk_pics
Photo by @green_wood_woman & @my_tiny_jungalow
Green is the way to go
We mean not only by adding lots of plants, but also by adding a green accent. This can be a wall, a ceiling, the couch or any other furniture. It looks very refreshing!
You can play around with different green tones, which will make our plants feel right at home.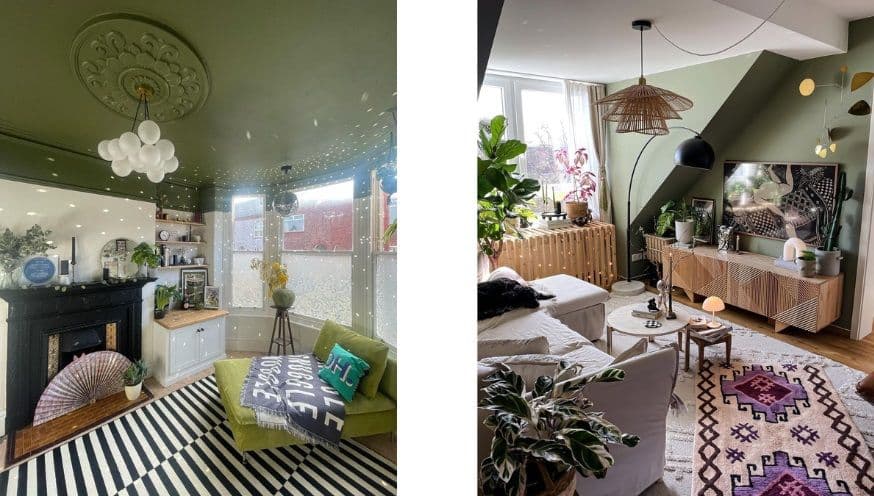 Photo by @notaperioddrama & @zusammen_wohnen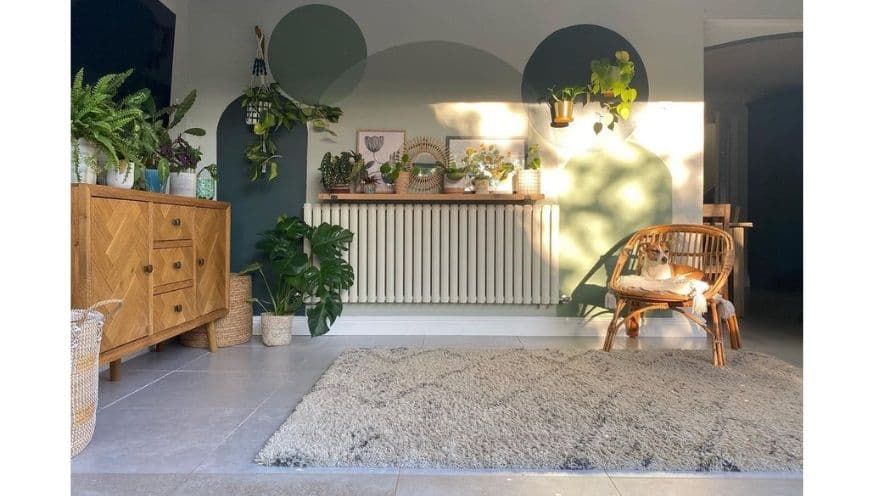 Photo by @at_the_mcgillens
Are you inspired yet? No matter what the style is that you choose, as long as you feel at home in it, you have chosen the right one! If you would like to share your summer proof home, you may tag us on Instagram under the hashtag #PLNTS, so we can see what you have created. We will never stop looking at trends, since it can be refreshing and inspiring, so we are curious to see what next year holds for us. If you need more inspiration, you can always look back at the trends from 2022!
If you would like to shop new stylish houseplants, you might want to check out our big houseplant collection.
Carlijn
Carlijn is probably one of the biggest plant geeks ever. She is always on the lookout for new gems and loves to share all her plant knowledge, tips and inspiration with our community!
07 July 2023
Free shipping from £75,-
We ship our plants all over Europe!
Delivery

throughout Europe

Free shipping for orders over £75,-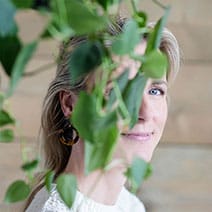 Hi, I'm Emma, your PLNTS.com guide!