Easy houseplants
Do you like a little greenery in your home, but are you not blessed with green fingers? An easy houseplant is not demanding and can take a beating, so that you can transform your house into a green jungle too! Whether you are looking for a large, medium or small houseplant: we have exactly what you are looking for.
Delivery

throughout Europe

Free shipping for orders over €75,-
Easy large houseplants
At PLNTS you will find a wide range of easy house plants in all shapes and sizes. From large houseplants to BabyPLNTS. We have the perfect plant solution for every corner of the house. Do you not (yet) have green fingers (yet), but would you like to add a little color to your house? Then choose an easy large houseplant. This way you give your interior a green boost, without having to worry that your new green roommate will have a hard time.
Top 10 easy houseplants
An easy houseplant that can take a beating. In addition to real beauties, these strong ladies are also not that demanding and make less high demands on the amount of water or light. Perfect if, for example, you are not at home much or if you do not have such green fingers.
Syngonium Red Arrow
The Syngonium Red Arrow is a beautiful plant with arrow-shaped leaves. This lady can grow quickly, so we recommend planting her in a hanging pot or choosing a nice plant guide, so that she can climb into the air. She's a super easygoing type. She doesn't like damp feet, so give her a little water several times a week. It is best to repot her once a year, so that she can continue to grow nicely. It couldn't be easier, right?
Yucca
The Yucca is an easy houseplant. Despite the fact that this plant likes to be in a light spot, the Yucca does not need much water at all. It is important to allow the soil to dry out for a longer period of time before watering the plant again. The Yucca does not like wet feet!
Areca Lutescens
The Areca Lutescens, also called the Gold Palm or Butterfly Palm, is a houseplant that has graced our living rooms for a number of years. Her easy going character will have to do with this! Give her a spot in the shade and a splash of water twice a week and she will be completely happy!
Pilea Peperomioides
The Pilea Peperomioides, better known as the Chinese Money Plant, is rightly on the list of easy houseplants. She prefers a place with a lot of indirect sunlight and prefers to get a splash of water now and then. If you make sure that the soil remains slightly moist, you'll be fine! This nice plant is also super easy to take cuttings. Do you dare taking cuttings?
Sansevieria Laurentie
The Sansevieria Laurentie, and actually the whole Sansevieria plant family, are plants that consume little water. This makes them perfect, easy houseplants! This fine plant can also be placed in different places, both in the sun and in the shade. Perfect houseplant if you don't have such green fingers!
Peperomia Caperata Red Luna
As the name suggests, this BabyPLNT belongs to the pepper plant family. She may have a feisty character, which is reflected in her special deep purple leaves, but her care is very simple! The Peperomia Caperata Red Luna likes a constant temperature and needs a splash of water once a week.
In addition to being a super easy lady, this beauty is also an excellent air purifier! She can be recognized by her heart-shaped, greenish-yellow leaves and she will climb nicely if you help her a little. She likes indirect light and moist soil. Although she can take a beating, you can keep the Scindapsus Epipremnum at its best by regularly misting its leaves. She really shines!
Ficus Lyrata
Beauty, elegance and super easy. The Ficus Lyrata is a perfect addition to your home. A Ficus is relatively easy to care for. She likes a bright, warm place but she doesn't like being in the sun all day. Give her a little water twice a week and she will be completely happy!
Monstera Adansonii
A popular and easy variant from the Monstera family! Totally hip and therefore very easy to care for. Place her in a light spot or, for example, in the bathroom! She likes high humidity. The Monstera Adansonii is not that difficult when it comes to watering. Water her once a week and keep the soil slightly moist.
Terrarium
A super easy, green work of art at home? Go for a terrarium! A plant terrarium is not only a showpiece in your room, it is also super easy to maintain. It requires little care, because the plants are self-sufficient. A terrarium is a kind of mini ecosystem. The plants are undemanding and live on recycled oxygen, water and nutrients. Isn't it handsome?
Care of easy houseplants
Even the easiest houseplants need a little care. Easy houseplants won't require much attention and if you forget about them, they'll be big and strong enough to survive. Every houseplant wants water, light and nutrition, but that should work, right? With these three steps you can turn your fingers into green fingers and let your plants shine!
Light
Even if you don't have green fingers, you naturally wish your new green friend a long and happy plant life. The location of your easy plant determines how much light the plant will catch. The ideal place is of course different for each plant. Even with easy houseplants there are shade lovers and plants that can appreciate a little sun. The location is super easy to determine: we clearly indicate for each plant whether this plant likes sun, partial shade or shade. That's how you find her new place in no time. Ideal right?
Water
The location and amount of light that your plant receives also determines how much water you should give it. How much water exactly depends on the plant, but it is often the case that larger plants and plants that get a lot of sun need more water!
Nutrition
Nutrition is also an important part of caring for your 'easy to care of' plant. In addition to light, water and a pleasant temperature, plants also need a good base! The potting soil that your new green friend comes in is often good. These contain certain nutrients that help your plant to stay healthy, but after a while these substances are all absorbed. Then it is time to give the plant plant food once every 1 to 2 weeks during the growth period.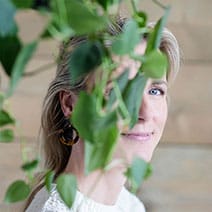 Hi, I'm Emma, your PLNTS.com guide!