Cool ideas for indoor greenhouses in 2023!
Are you a big PLNTS collector? Maybe you can benefit from an indoor greenhouse! This is a cabinet that you can customise to the needs of your green babies. Besides being super beneficial for your plants, it also looks so good inside your house! You can make a greenhouse on a budget, by using Ikea cabinets. These are very popular under the greenhouse builders. Are you getting excited already? Let's get into all the option you have to create an indoor greenhouse at home!
Indoor greenhouse cabinet
You can transform a standard display cabinet into an indoor plant greenhouse. Ideal if you have many different plants, if you are a PLNTSparent of various cuttings or if you keep more special species in your home that can appreciate some extra attention. Go for plants that really like high humidity, because that is what makes them so happy! It is good to know that it is better not to choose a wooden cabinet because the wood can be affected by the high humidity. A metal display cabinet is perfect!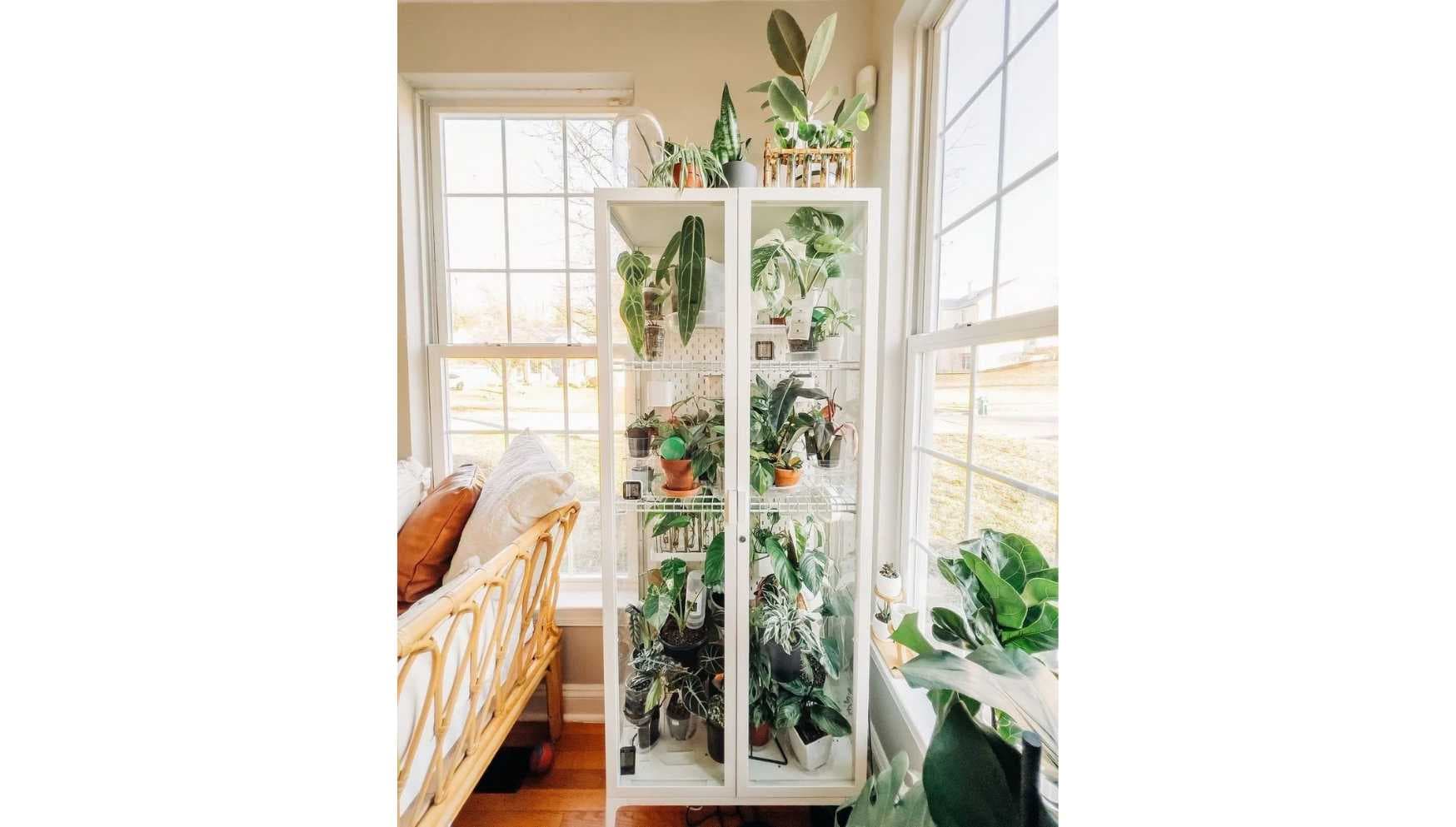 Photo by @caitlynburchak
What exactly do you need for a greenhouse cabinet at home?
Grow lights are not compulsory in a greenhouse, but they can help if the greenhouse is in a place where the light is not ideal. If your greenhouse is next to a window with an ideal incidence of light, you do not necessarily need to add extra light. Is it in a somewhat darker location? Then grow lights are the best solution! A tip from us! Place a timer between the grow light and the plug. By using a timer, you do not have to worry about switching the lamp on and off. This is ideal!

A digital hygrometer is certainly desirable, with which you can measure and keep track of the air humidity in your greenhouse. To keep humidity stable between 70%-80%, you can also spray your plants every other day with a plant sprayer.

For extra humidity you can also place a humidifier in your cupboard. Our Aroma Diffuser is very suitable for this.

Fans, because movement in the air is very important in an enclosed space!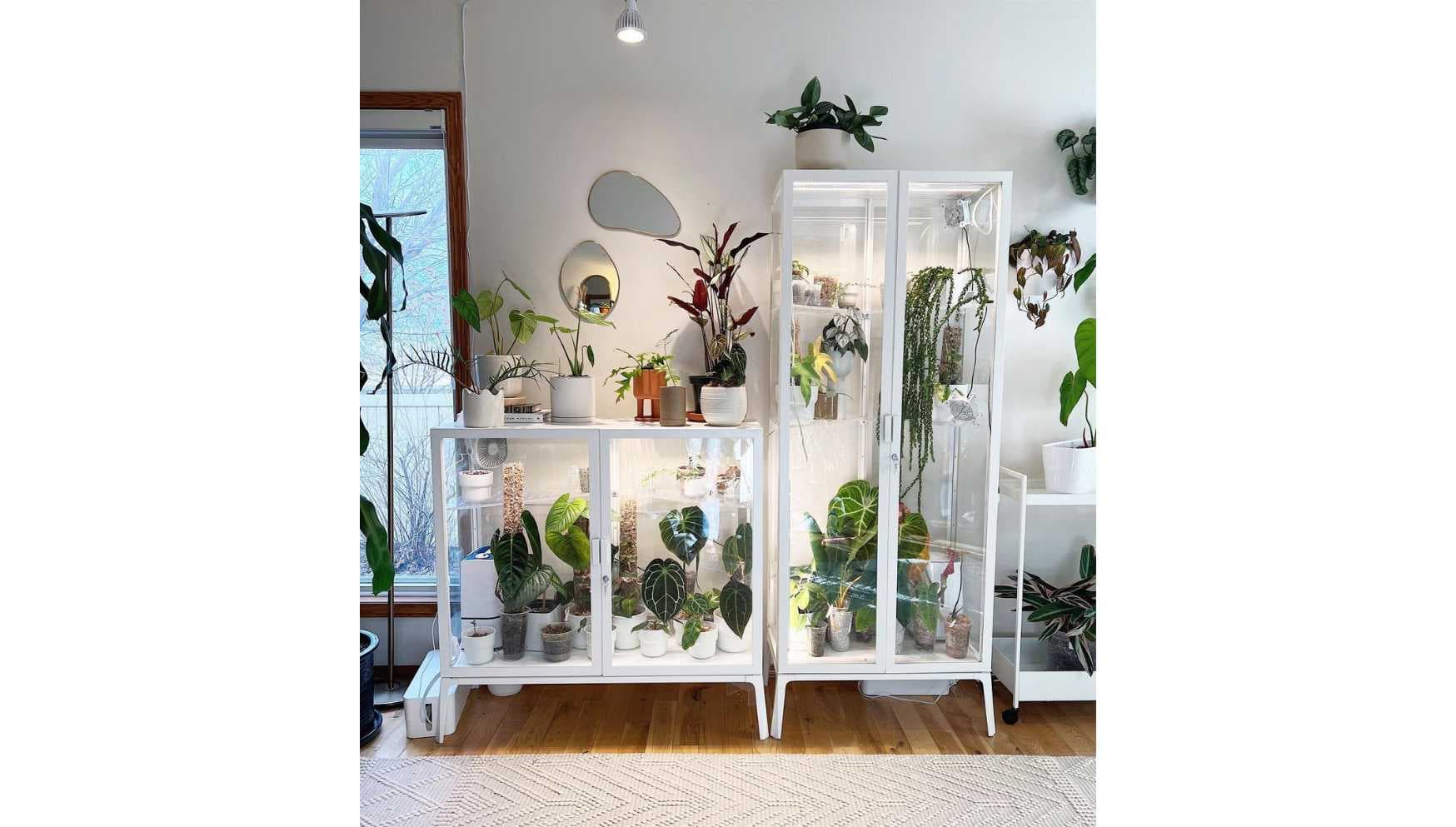 Photo by soleilrium
Furthermore, you can make it as crazy as you want of course! These are the basic things you really need. For the professional PLNTS parents among us you can also upgrade the greenhouse. Some choose to make the cabinet completely airtight with draught strips, so that the humidity remains extra high and stable, it is very important to ensure that there is enough movement in the air. Stagnant humid air can cause moulds and you want to avoid this of course! In addition to ventilators, you can replace the glass shelves with shelves with ventilation holes, which create even more circulation. All in all, there are plenty of options to create your very own greenhouse cabinet!
Small greenhouses for indoors
Don't have enough room in your house for a large greenhouse? Then there are plenty of other possibilities to have your own greenhouse at home! These greenhouses may be more for smaller plants, but they too deserve their own home with wonderful humidity. Below you will find three different options:
Hagrid Grow Pot and Grow house
Our Hagrid grow products are also ideal for creating a greenhouse feeling. Small but beautiful! They are easy to close with a plastic lid and you can choose to open or close the air holes yourself. A small greenhouse that is particularly suitable for growing seeds, cuttings or small baby plants in. For growing seeds, you can perfectly use our biodegradable grow pots.
Small glass greenhouse
You have probably seen them before, those cute little glass houses with a black frame. You can grow some smaller plants or cuttings in them or you can just use them to display your beautiful collection! Often, the roof can be opened so that there is plenty of movement in the air. Apart from the fact that it is good for growing your cuttings in, it also looks super nice!
Olly & Toby Terrariums
A commonly known way are the terrariums! Because they are often closed with a cork cover, the air humidity is nice and high. In our shop you will find enough terrariums like Olly and Toby to make your own indoor greenhouse! You can also do this with a glass bell jar. Under it, you put your favourite plant that also needs extra high humidity. It will be a real eye-catcher to see! Make sure you take off the glass bell now and then, so the plant can get some air.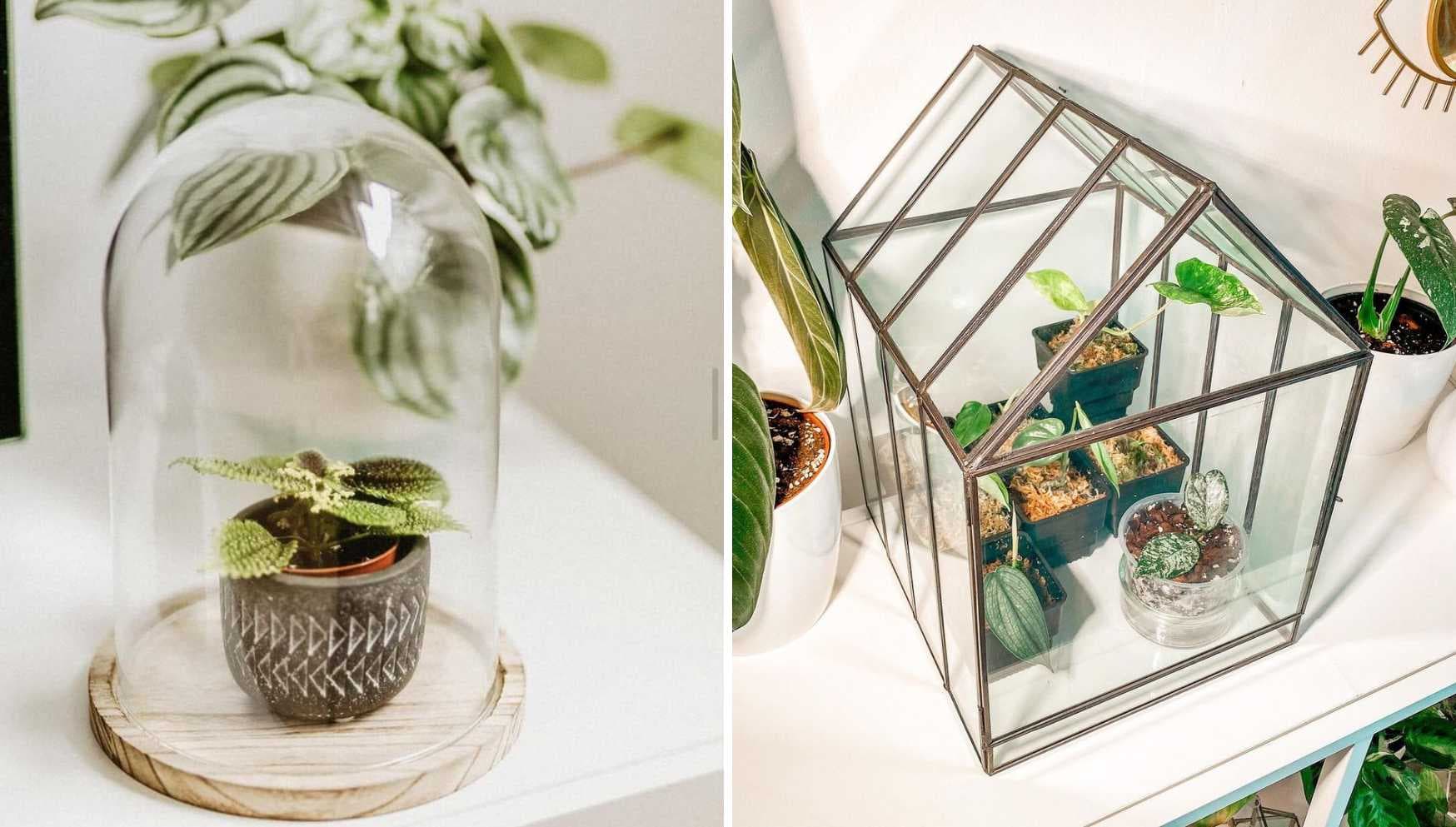 Photo by @larissasydekum & @tamplant
Are you inspired yet? Well we are! If you decide to build your own greenhouse, we would love to know about it! You can tag us on Instagram, so we can admire your personal build. If you need any more inspiration on how to build your greenhouse, you can visit this Instagram page: @Ikeagreenhousecabinet.
Lisa
Plants make Lisa very happy and she is secretly addicted to buying lots of BabyPLNTS. She loves to inspire the community with fun content, from styling tips to plant care to new products!
March 10, 2023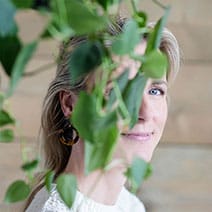 Hi, I'm Emma, your PLNTS.com guide!