Scindapsus
The Scindapsus is one of the most popular climbing plants to bring into your home. It's a plant that doesn't ask for much but you get a lot of beauty in return. Between all varieties, the Scindapsus differs in foliage but we absolutely love that. Each Scindapsus stands out in her own way so for every fan there is one!
Delivery

throughout Europe

Free shipping for orders over £130,-
Scindapsus (Epipremnum) varieties for sale
One of the most common variety in this family is definitely the Scindapsus Pictus (Trebie). She shines because of the silvery layer on her leaves. These silvery aspects together with deep green veins make each leaf different. The Pictus Trebie looks a lot like the Scindapsus Argyraeus. Most people don't even see a difference, but if you look at the two, the silver aspects on the Argyraeus are smaller, so less present. Both beauties grow super fast, so it's really up to you which foliage you prefer.
Another species is the Scindapsus Treubii. This species is super rare and therefore really hard to find. There are two varieties of this Treubii, the Scindapsus Treubii Moonlight and the Scindapsus Treubii Nearly Black. The leaves of the Treubii species are more pointy but both varieties are absolutely stunning. The Treubii Moonlight is also known as the 'Silver Sterling'. This is because this beauty also has that subtle silver layer on her leaves. Her dark green nerves really pop in contrast to the lighter green colour of her leaves. We're ending the different varieties with a true jewel: Scindapsus Treubii Nearly Black. Ideal for PLNTSlovers that go crazy for plants with darker leaves. She has a real black appearance with no silver variegation. That is why she's also called 'Dark Form'. A rare plant that grows fast and has stunning long pointy leaves. The best thing is, because of her dark leaves, she can even grow in shadow!
Scindapsus care
The beautiful plant belongs to the Araceae family and originally grows in the forests of Southeast Asia. Scindapsus is generally easy to care for, so a very good option for the novice PLNTSparent to start with. Curious about our care tips for these plants? Then read the Scindapsus care page here.
Buy Scindapsus at PLNTS.com
At PLNTS.com, you can buy the beautiful Scindapsus online. We have several beautiful plants from this family in our shop and actually love every single one of them ourselves. Is there a Scindapsus among them for you?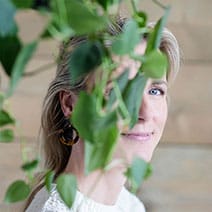 Hi, I'm Emma, your PLNTS.com guide!