Musa
Musa, also known as the Banana (tree) plant, is a very tropical looking plant. This plant gives many people a real holiday feeling and this is probably why she is so popular as a houseplant.
Delivery

throughout Europe

Free shipping for orders over £130,-
Musa (Banana plant) varieties for sale
There are several species in the Musa family. At PLNTS.com we sell the Musa Dwarf Cavendish. This species is known as the Dwarf Cavendish because it does not grow very tall (compared to plants in the wild), at most about three meters and since, as mentioned above, William Cavendish was the man who brought this plant to Europe he named it after himself. It is a beautiful plant that, with its unique form and sometimes purple print on the leaves, turns any room or garden into a piece of paradise.
The banana plant which is mainly used for consumption is Musa Balbisiana and the most hardy banana plant is the Musa Basjoo. She can tolerate temperatures down to -7 degrees. So in our opinion, this is also the best banana plant to plant in your garden.
Musa care
A banana plant needs optimal conditions (indoors or outdoors) to thrive. Plenty of water and light is a super important aspect of a strong banana plant. The banana plant is a fast grower when cared for properly. Before you know it, you will have a beautiful large Musa in your home. Want to make sure you take good care of your Musa? Then check out our PLNTSdoctor's Musa page.
Buy Musa at PLNTS.com
Are you looking for a beautiful banana plant. At PLNTS.com, you can easily order your new Musa online. Your new plant will be delivered to your home within a few days. Ideal right?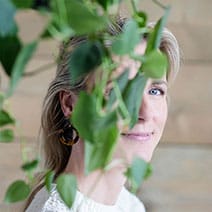 Hi, I'm Emma, your PLNTS.com guide!