Dieffenbachia
Dieffenbachia also known as the Dumb Cane plant is an attractive and showy houseplant that is admired for its rich, tropical leaves. That is why we think this plant family is special and why any Dieffenbachia will be a true decoration piece for your home or office.
Delivery

throughout Europe

Free shipping for orders over £130,-
Dieffenbachia (Dumb cane) varieties for sale
There are many varieties of Dieffenbachia, but not all are sold commercially. Sometimes you have to look really hard to find your favourite Dieffenbachia. At PLNTS.com we like to search for the most special Dieffenbachia's. That is why we have the Dieffenbachia Reflector in our shop. This Dieffenbachia Reflector is special because of its beautiful deep green leaves with spots in lime green and yellow that form a mosaic-like pattern, alternated with pure white speckles and in the middle of the leaf the white-green veins almost glow!
The other populair varieties of Dieffenbachia that are beautiful and you can find online are the Dieffenbachia Seguine this plant can grow up to 10 meters high and usually has clusters of large egg-shaped leaves with a green margin that is mottled yellow or cream. The Dieffenbachia Amoena is a larger variety. Her leaves are large, oblong, and cream or light yellow with deep green spots and stripes in bands along the veins and edge. The last Dieffenbachia that we don't want to keep from you is the Dieffenbachia Compacta. Dieffenbachia Compacta is more compactly growing (as the name might suggest) than other varieties. Her cream-coloured leaves are brightly mottled with green, and she has a very full growth habit.
Dieffenbacia care
The Dieffenbachia is a special plant. The plant will definitely brighten up your home. To keep the Dieffenbachia happy as a houseplant, it is good to know exactly how to take care of this plant. Want to know how to take care of your Dieffenbachia? Then check out our PLNTSdoctor page.
Buy Dieffenbachia at PLNTS.com
You can find your new Dieffenbachia at PLNTS.com. For example, the beautiful Dieffenbachia Reflector. We sell small to extra large plants so find your favourite and buy your new plants online.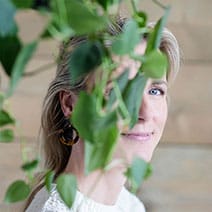 Hi, I'm Emma, your PLNTS.com guide!