Yucca
Would you like a nice addition to your indoor jungle? Do you like a Mediterranean atmosphere? Then the Yucca is the perfect plant for you! We would like to tell you more about this beautiful plant and we are convinced that after reading you want to have one too.
Delivery

throughout Europe

Free shipping for orders over £130,-
Yucca (Elephant foot) varieties for sale
Yucca is a genus of more than 40 perennial plants, shrubs and trees, but only a few are cultivated as houseplants under the name Yucca plant, usually the Yucca Elephantipes, the Yucca Guatemalensis and the Yuca Aloifolia.
The Yucca Elephantipes, or elephant foot, is a popular houseplant, it is large and has beautiful long green leaves. The plant is very suitable as an houseplant and provides a Mediterranean atmosphere. The Yucca Aloifolia 'Purpurea' has green leaves with a dark purple part, which is most striking in summer. The plants can be grown on a single stem or encouraged to branch out.
Finally the Yucca Guatemalensis is an impressive tree and has a thick trunk and dramatic leaves. It grows slowly and is very easy to handle. It is the perfect addition to any low-maintenance indoor jungle.
Yucca care
With the right conditions, Yuccas are easy going houseplants that are not difficult to grow. They will thrive indoors when placed in a bright or full sun spot, but they also do well in bright indirect sun. Keep in mind that too little light can result in thinner and slower growth. Because the Yucca comes from the desert, they are used to temperature fluctuations and can adapt well in changing temperatures indoors!
Buy Yucca at PLNTS.com
Ready to add an XXL plant to your urban jungle? Buy Yucca plants online at PLNTS.com and fill your empty corner with a big houseplant!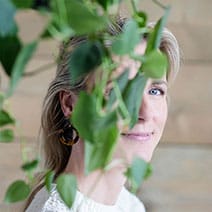 Hi, I'm Emma, your PLNTS.com guide!