DIY: paint your own terracotta pots!
Do you enjoy summer as much as we do? The evenings are longer, the temperatures higher and the plants grow faster at this time of the year. The summer holidays are just around the corner and you'll probably find a moment when you don't know what to do (right after you watered and feed your green beauties for example). We got that covered! Time for a new and easy #DIYPLNTS.
Turning your terracotta pots into personal masterpieces.
Everyone knows them. They are the most common pots in the plant world: the terracotta pots. They are sustainable, cheap and come in different sizes, so they fit any plant. Ideal! Unfortunately, they all look the same and everyone likes a change and something cheerful, right? With a little paint and creativity, you can make your terracotta pots stand out from all the others! By painting a bare pot, it becomes a real eye-catcher, brings colour to your home or garden and your plants suddenly look even better than they already do. So it's a win-win situation.
We are going to give you some tips on how to make your own terracotta pot shine and how to make sure you enjoy your creation for a long time. Let's get started!
Everything you need to create your own beautiful pot(s)?
Here's a list of all you painting essentials!
Terracotta pot (surprising, isn't it?)
Bucket with warm water
Scouring pad or brush
Sandpaper grain size of 220 (optional)
Pencil
Acrylic paint
Brush
The steps you have to take to become a real PLNTSpainter.
Step 1: bathing time
To start our project, we need to clean the pot very well! Pots are often covered with a layer of dust or other dirt. Because of this, the paint cannot attach to the pot properly or you will see little bumps through it, of course we would like to avoid this! It's important to give the pot a good bath. Use the bucket with warm water and the soft side of the scouring pad or a brush to loosen all dirt and dust.
Tip: Sometimes a pot has a price sticker that is difficult to remove (don't you hate this too?!). If this is the case, let the pot soak for a while in the bucket of warm water. You will see that it becomes a lot easier to peel it off.
Step 2: patiently wait while your pot dries
Place the pot in a sunny spot to let it dry completely. We can only continue when the pot is completely dry, so please be patient and your patience will definitely be rewarded!
Step 3: sanding (if required)
A terracotta pot is a natural product and therefore never completely smooth. Maybe you want to keep this (lived-in tough) look or maybe you would rather remove these spots to make your piece of art look better. Like a real Picasso! The best solution is sanding, so you can get rid of any unevenness. If you are going to sand, do it with sandpaper with a grain size of 220.
Step 4: bathing – and patiently waiting – time again
Wipe the pot with a damp cloth to get all the dust off and let it dry again. Almost ready for painting..
Step 5: ready for the real action.
Now let's start the fun part: we are going to paint!
There are plenty of ideas on how to turn this brown pot into a cozy and cheerful one. Maybe you don't like busy things and prefer clean patterns and quiet colours, anything is possible! But we, as true plant fans, are going to pimp out these pots the PLNTS way. Are you ready?
You will see us in action in our DIY video:
We have chosen three different designs for you.
A happy face
A rainbow
A pot with a nice and appropriate slogan
Just to show you that there are no limits to your ideas, really anything goes. Don't be afraid to go out of your comfort zone.
Make sure to add several (thin) layers of paint. terracotta is made of clay, you will notice that the first layer of paint will not attach very well so you will most likely need a second or even third layer to make the colours look nice and colourful. This is perfectly normal.
It is important to paint in thin layers so that the paint does not drip. If you use too much paint in one go on your brush, your paintwork can start to bubble and you would like to avoid this. So dip carefully. Also very important! Let the paint dry well between each new layer before applying the next. We've said it before, patience is a virtue and it really does pay off, pinky promise. Also paint the inside of the pot as a finishing touch.
We have now only painted the outside of the pot but you can also choose to paint the inside of the pot. This is the real finishing touch of a pro!
Step 6: spray your creation with a water resistant varnish
If you want to finish your creation like a pro: make sure you spray the inside of the pot with a water-resistant varnish so that no moisture comes through the walls of the pot when you have potted the plant. We have used acrylic paint, which is water-resistant after drying. The varnish can also be sprayed on the outside of the pot to ensure that it retains its cheerful colours and stays clean. This way you can enjoy it for an extra-long time!
Step 7: admire and enjoy your masterpiece
Yes! Now you have finished your first home-made pot and have created the perfect home for your (new) plant 😉 We say that creativity is experimenting, growing, breaking rules, making mistakes and having fun.
Do you already have new ideas for the second one? Share your pot's glow up with your fellow PLNTSpainters with the hashtag #DIYPLNTS.
Lisa
Plants make Lisa very happy and she is secretly addicted to buying lots of BabyPLNTS. She loves to inspire the community with fun content, from styling tips to plant care to new products!
06 agosto 2023
Spedizione gratuita da €75,-
Spediamo le nostre piante in tutta Europa!
Lieferung in ganz Europa

Kostenloser Versand über €75,-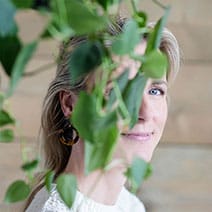 Ciao, sono Emma, la tua guida PLNTS.com!