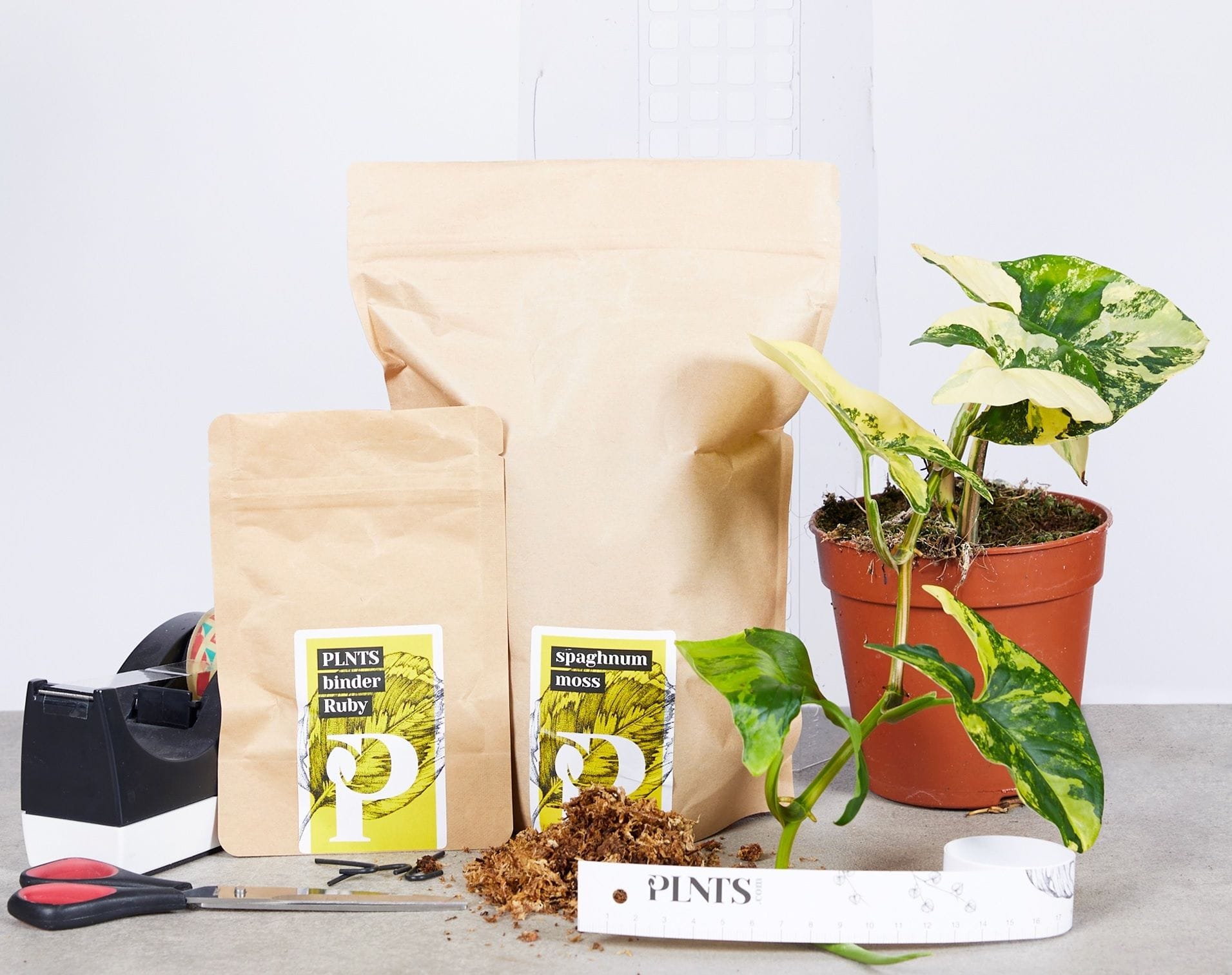 DIY: Casper moss pole
Casper moss pole could become your plant's new best friend! He is a perfect match for all your climbing aroids. Caper is made from recycled plastic,which makes him a very conscious choice to benefit our planet. What makes him even more special is that he can actually grow with your plant. You will never have a too big or too small supporting moss pole alongside your plant! But how does Casper work? We will go through step by step how you can put Caper together so you can give your plant a shoulder to lean on!
This is what you will need:
Casper climbing pole
Substrate of choice (we use Spaghnum moss)
Scissors
A lonely plant that is looking for a friend to lean on :)
Something to attach the plant to the pole, like Ruby Binders
tape (optional)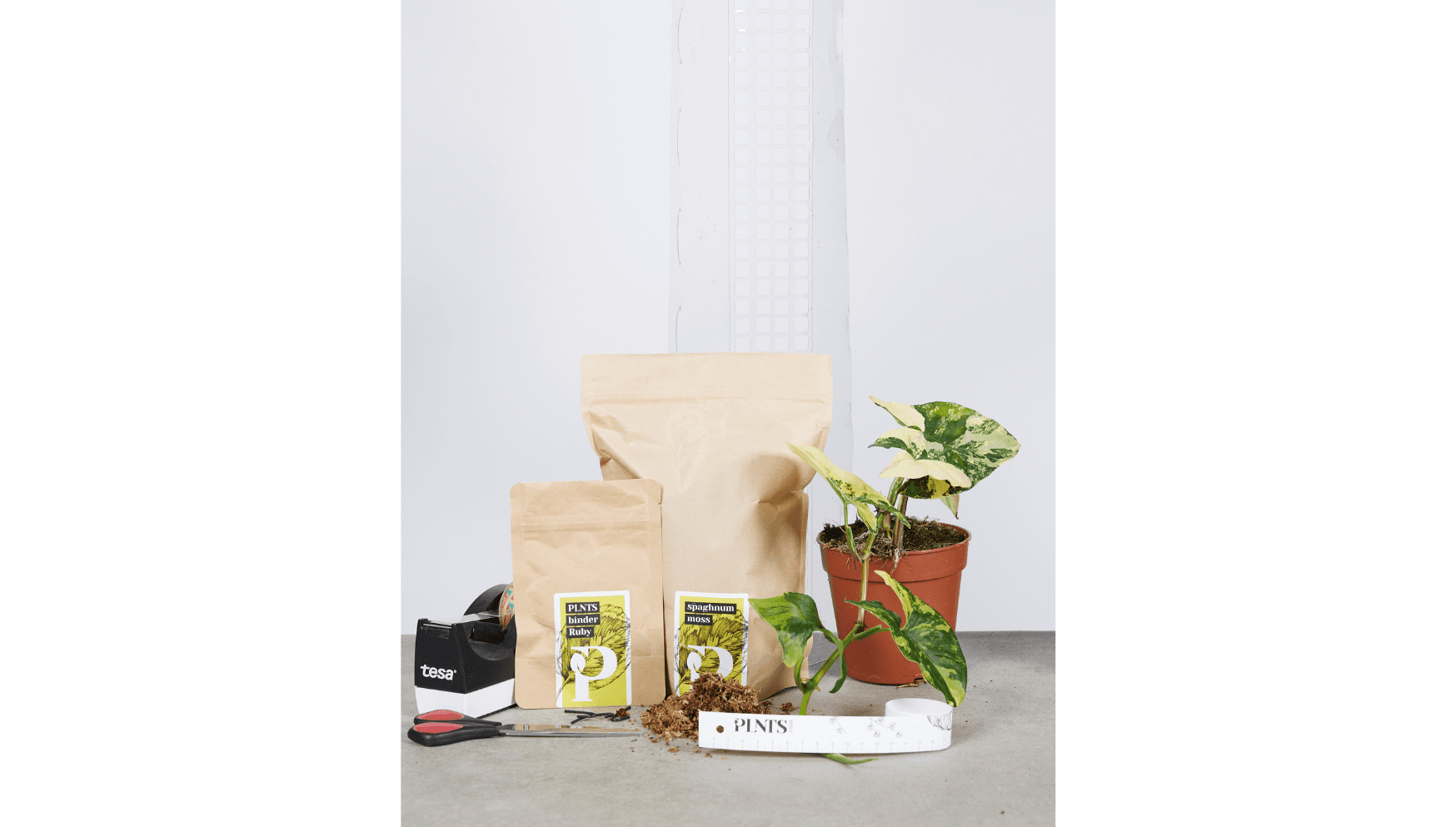 Measure
The first step in matching Casper with your plant is to measure how long he will have to be. Keep in mind that a small part will be dug into the soil, so it's best to cut him slightly taller than your plant. About 3-4 centimeters will be perfect.
Snip it
Now you know what length the pole has to be, you can simply cut it. Any working scissors will do. Keep in mind that you save the part you won't be using today, that will come in handy later on!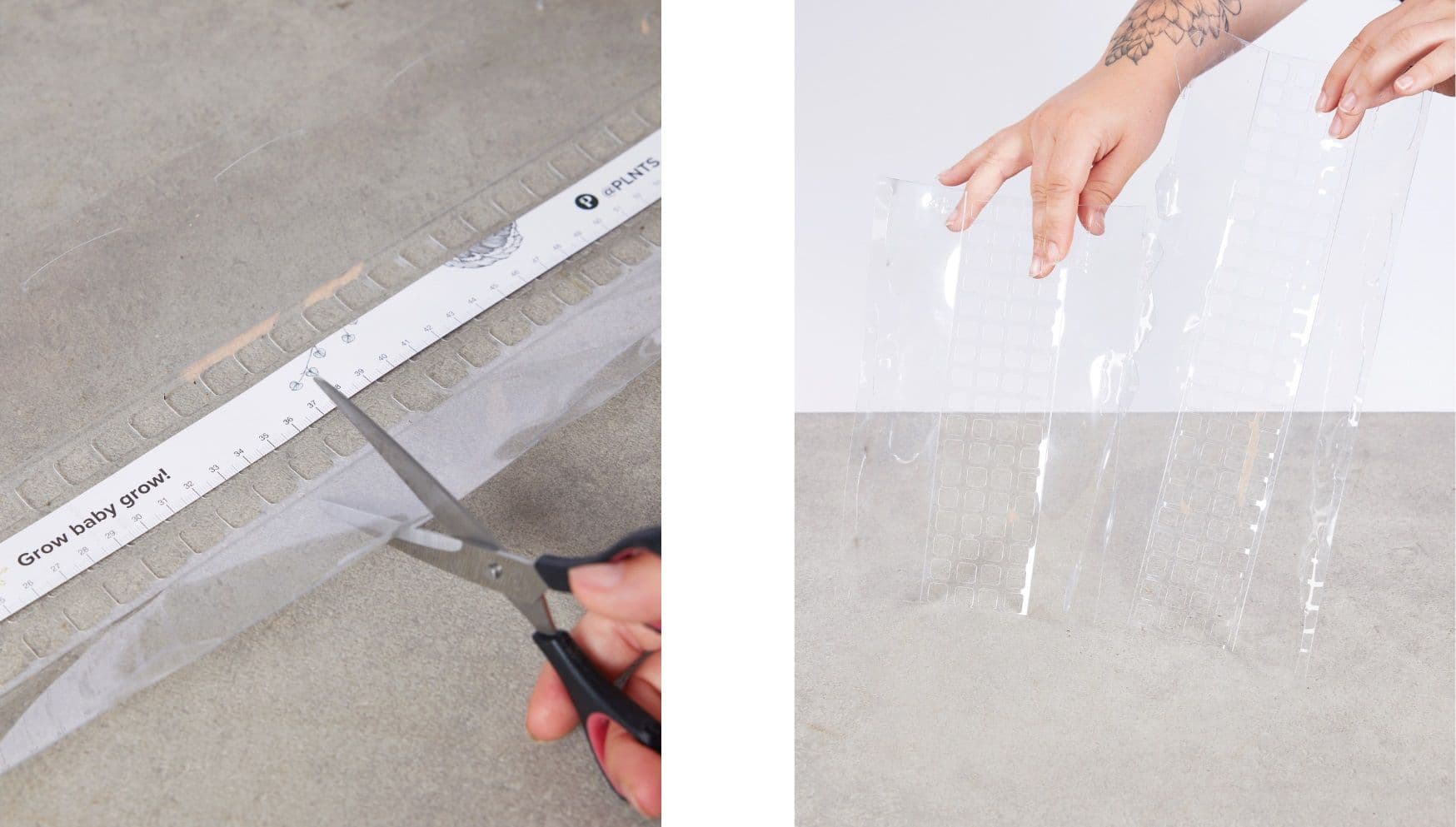 Fold
Casper should be the perfect length for your plant, now it's time to fold him.
Dig in!
Casper is folded and ready to be dug into the soil next to your plant. Make sure he is stable, if he is not, you can push the soil a little bit tighter.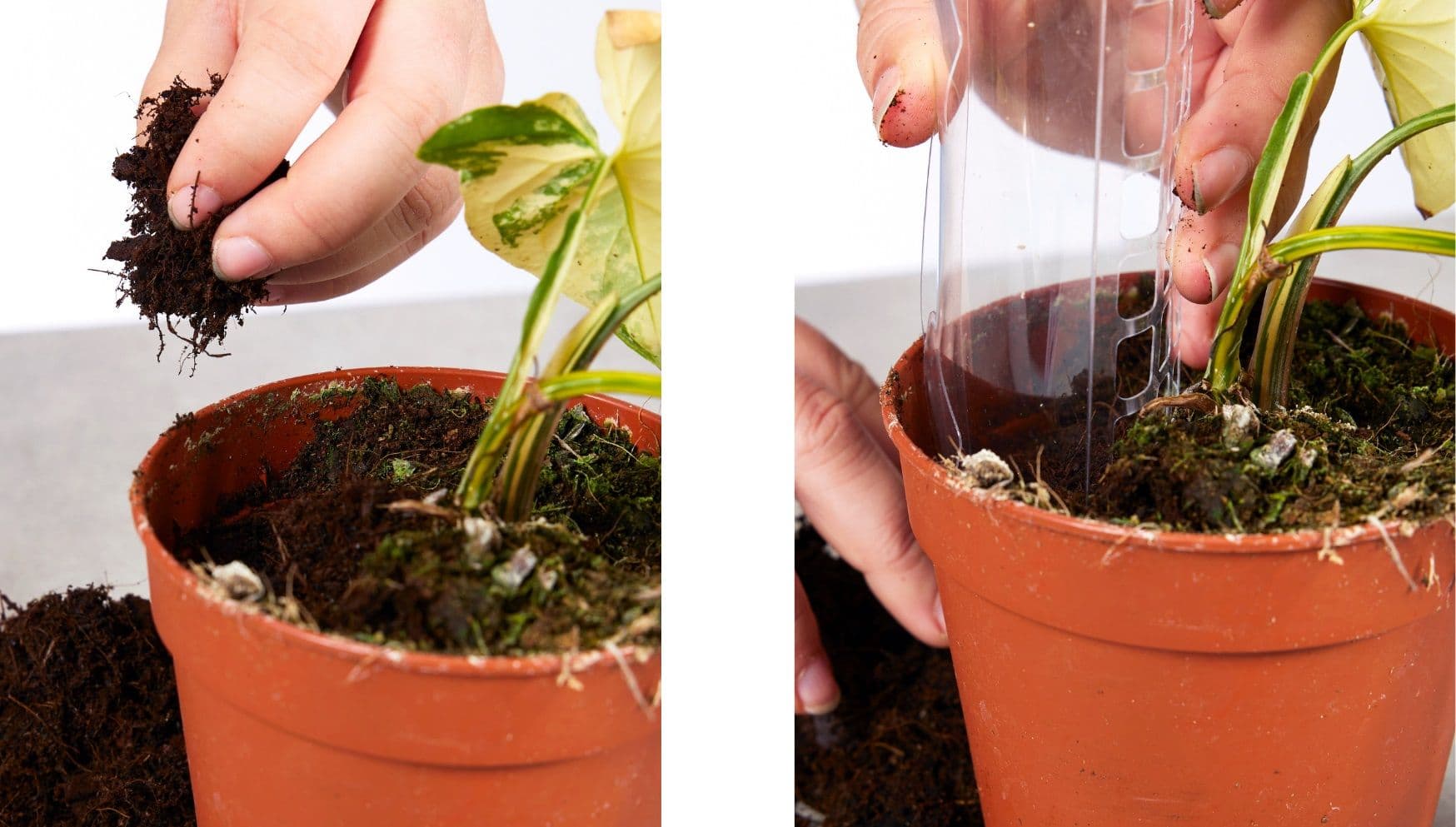 Endless substrates
Since Casper is still empty, you can fill him with any substrate of choice. You might wonder what substrates can be used for him.
Sphagnum moss
This moss would be our first choice to combine with Casper. Sphagnum is known for its ability to hold water very well. Besides that it also allows roots to develop pretty easily, since its structure is very soft.
Perlite
This substrate is made from roasted volcanic rocks. It's very light and allows roots to breathe.
Coco peat
As his name suggests, Coco peat is made from the waste of coconuts. It holds moisture well and has a very fine structure.
Cutting soil
This is a soil mix that is created for developing roots. It contains nutrients and some of the substrates that we mention here.
Vermiculite
Vermiculite is made from rocks that contain large crystals of minerals. It's capable of absorbing water and nutrients, which it can slowly release.
You can choose any that you prefer, but we chose sphagnum moss. You can fill up the pole and mist it when you're finished. You should keep the substrate slightly moist at all times.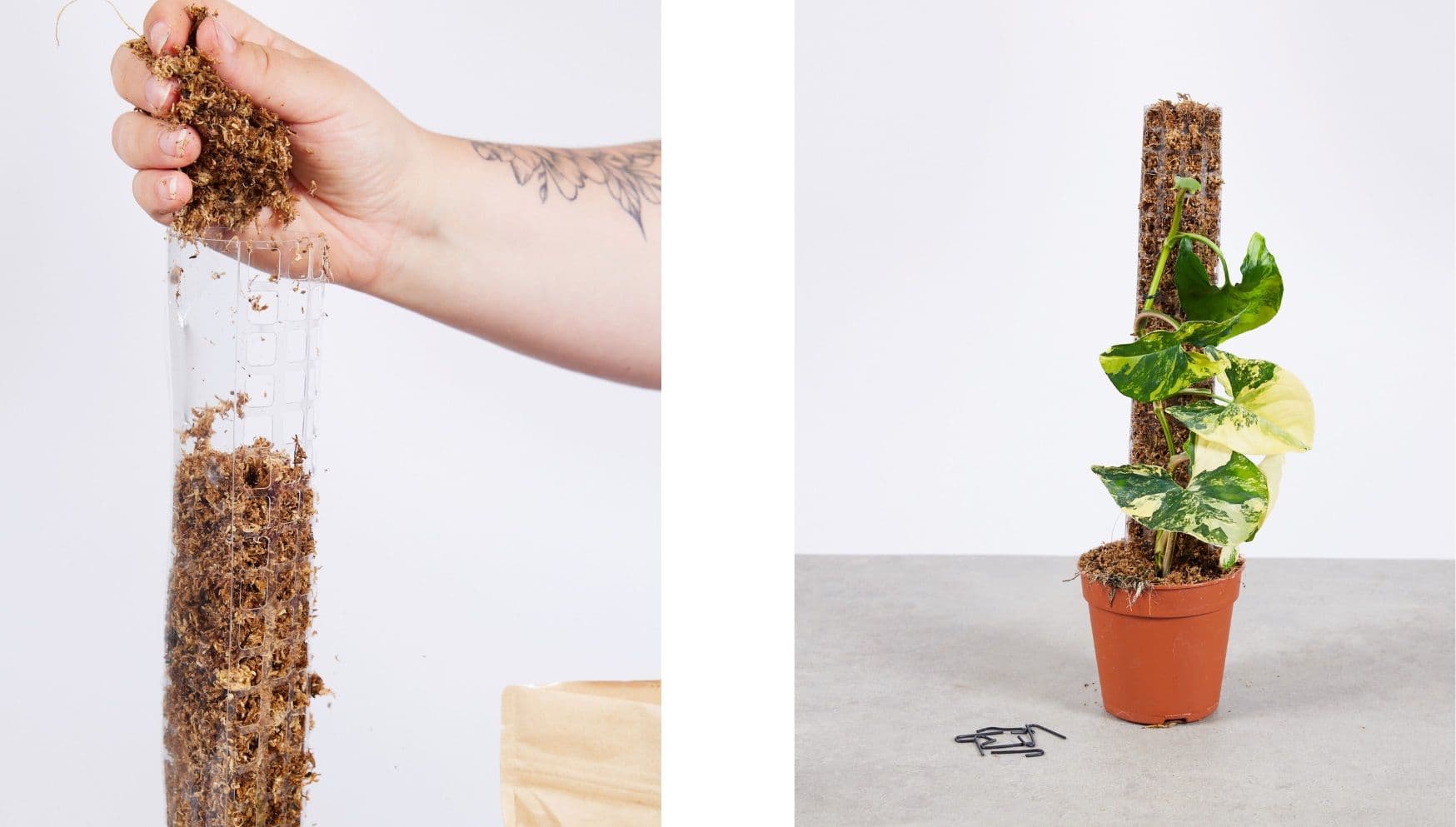 Endless growth
In this step the part that you kept safe comes in handy. You can fold this part and shove it inside the other part. You can use some tape for some extra security. Now Casper can grow endlessly with your plant!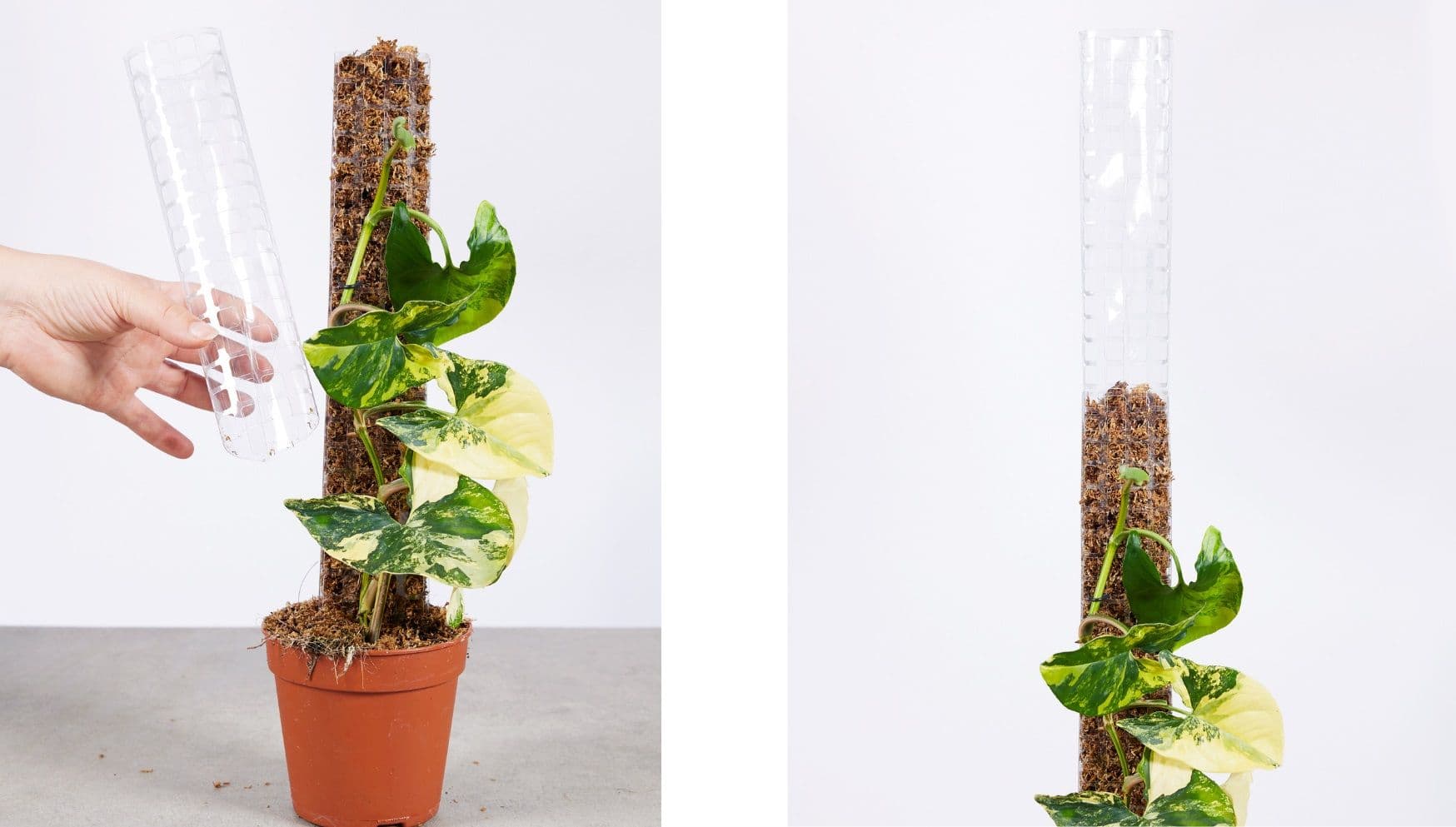 Propagation will become childsplay!
Your aroid will 'grab' itself onto the pole with her aerial roots. These aerial roots will develop nicely inside the substrate, which encourages growth. These roots help you to propagate your plant, since it has the same effect as air layering your roots. What is air layering? This is a technique that you can add to prepare your plant to take cuttings. Mostly this is done by adding moisture to aerial roots in the form of substrates. Basically Casper will do more or less the same for the roots. So when you feel it's time to take some cuttings, it will already have developed roots, how nice is that?
We hope that you now know everything about Casper! If you feel inspired to make Casper your plants best friend too, we would love to see it! You can share it with us on Instagram, by using the hashtag #PLNTS within your caption. Good luck and we hope to see your moss pole + plant combinations soon.
Lisa
Plants make Lisa very happy and she is secretly addicted to buying lots of BabyPLNTS. She loves to inspire the community with fun content, from styling tips to plant care to new products!
06 agosto 2023
Ulteriori informazioni su Fai da te
Spedizione gratuita da €75,-
Spediamo le nostre piante in tutta Europa!
Lieferung in ganz Europa

Kostenloser Versand über €75,-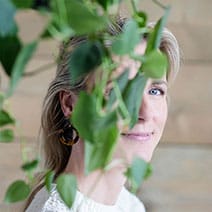 Ciao, sono Emma, la tua guida PLNTS.com!