Will you go for a Cedrus Libani Glauca or a Norfolk Island Pine as your Christmas tree this Christmas?
These little trees have been a real Christmas trend for the past two or three years. With this trend, however, there are two different camps. You either love it or you don't love it at all. In all honesty, we have to say that we are actually fans of these mini Christmas trees! We think they are a perfect option if you don't have space for a Christmas tree in your home or just as a super cute addition to your Christmas decorations. Wondering how to make these little trees all Christmassy? Or do you really need some convincing? Then be sure to scroll on.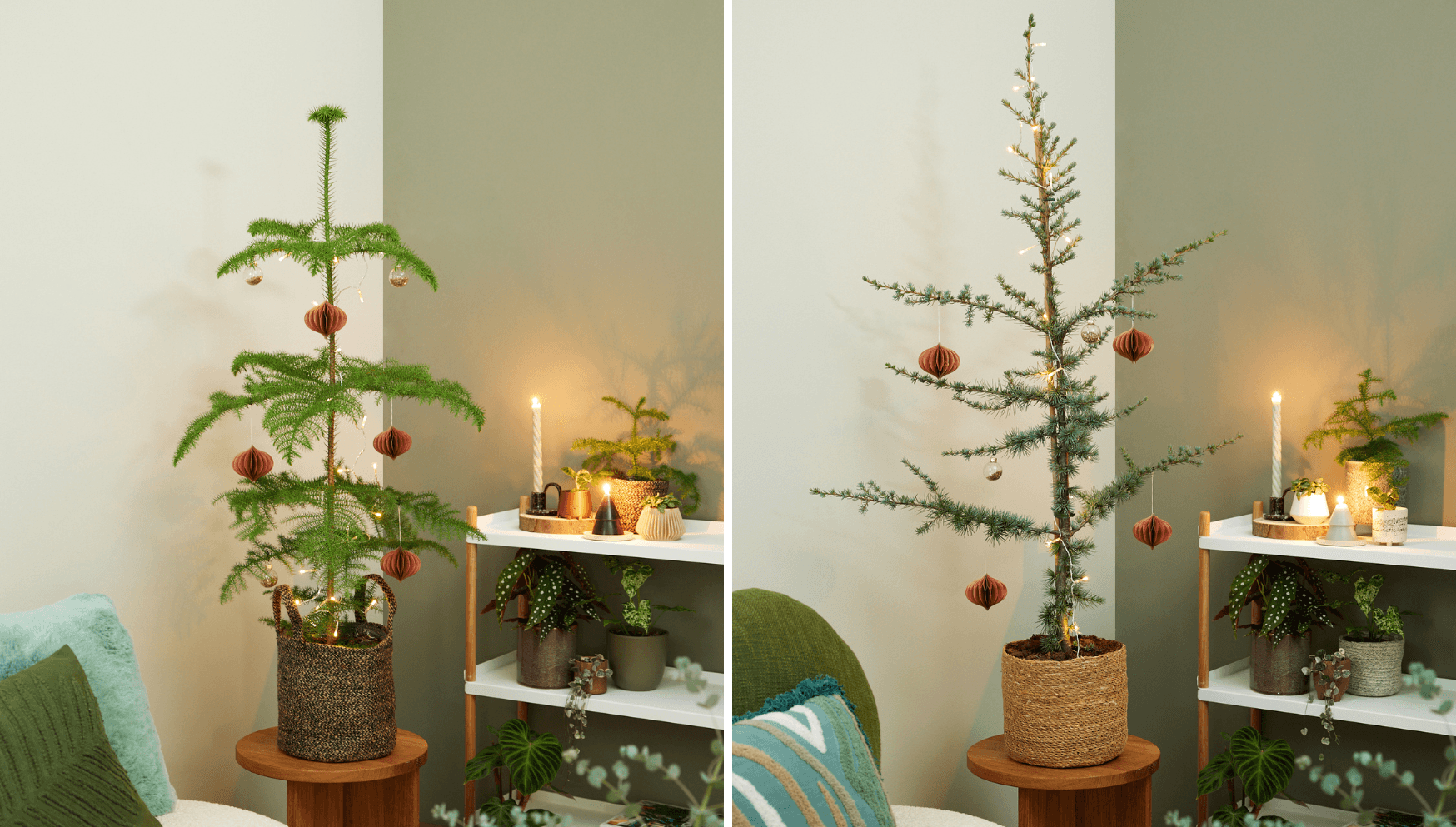 The cedar tree (Cedrus Libani Glauca) as a Christmas tree!
This cedar is a real beauty with her grey-blue needles and subtle branches. This gives her the minimalist look that makes her so suitable as an addition to any interior. As a Christmas tree or additional Christmas decoration, it is therefore perfect. Her official name is 'Cedar Libani Glauca'. She is related to the conifers and can therefore easily reach 30 to 40 metres in height. So you may have seen her in nature as a full-sized tree as well. As a young tree, she has such a minimalist look and very few branches. This makes her perfect as a slim and modern Christmas tree.
We would like to show you how to transform this cedar tree into a real Christmas tree. It is nice to know that many creative people have already tried this in recent years, which is why we are happy to share photos of these trendsetters:
Photos: @wonenbijkirs - @hemma_no31 - @huisophetveldje - @thuis.bij.miek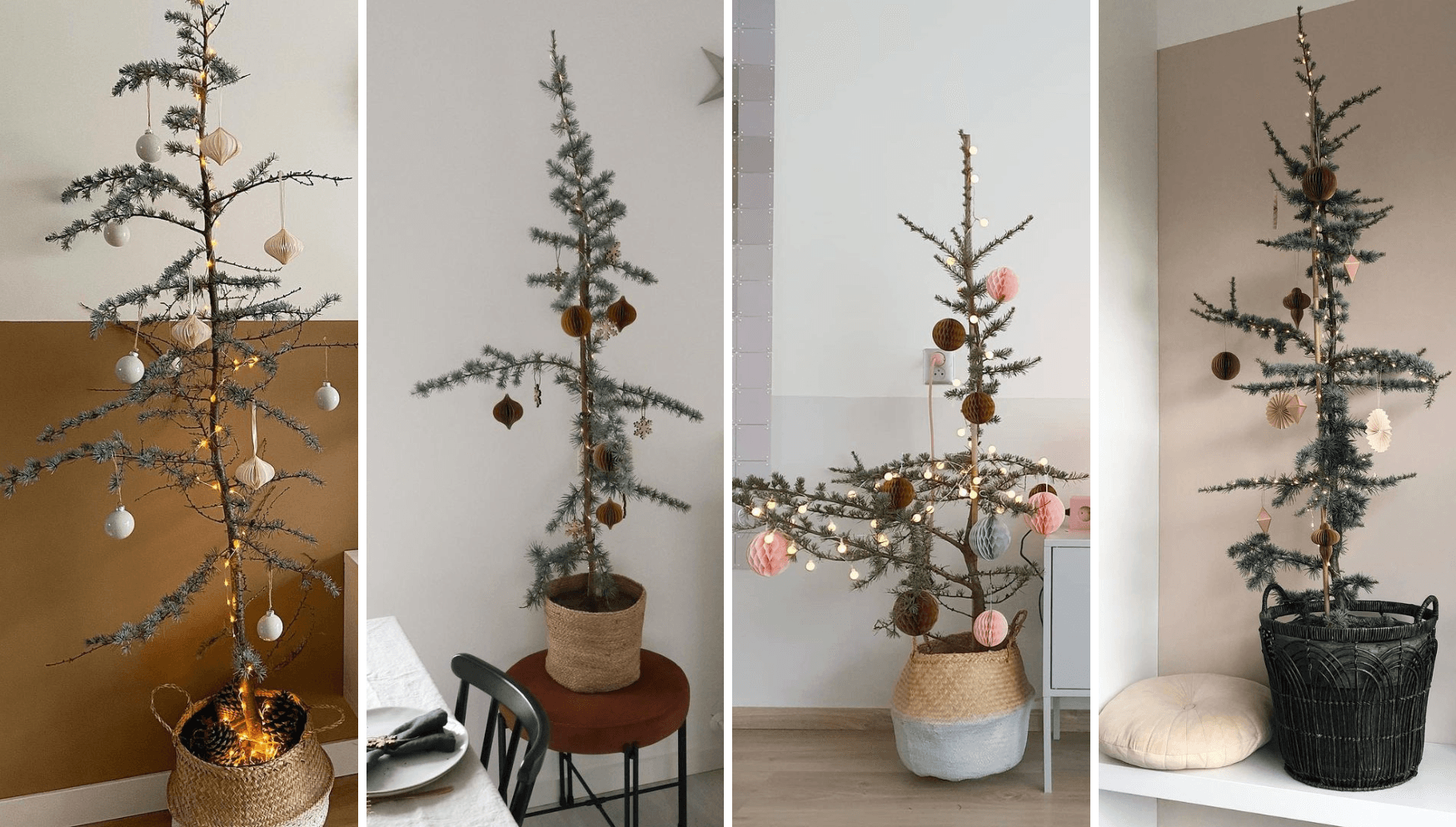 Photos: @isabelle.at.home - @manonsteeghs - @el_kedageenfeestje - @melanie.willemsen
We hope that after these beautiful examples, you got extra excited to get started yourself. Will you go for a minimalist look and choose to just place this little cedar tree by itself in your home or will you also give her Christmas lights, balls and ornaments for the real Christmas tree vibes?
Taking care of your cedar tree
Just like the Christmas tree, this cedar tree is officially meant for outdoors. So it is advisable not to keep this little tree in the house for too long, but to put it outside after the holidays. So she may also start falling out a little like the Christmas tree. Do not give her too much water. Her potting soil may be slightly moist, but let it dry out between waterings. Very importantly, do not put her too close to a heater or stove. So also pay attention to underfloor heating. In this case, it is best to place it just slightly off the ground. Put a small table or an extra saucer under it, for example.
The Norfolk Island pine (Araucaria heterophylla) as a Christmas tree!
Her compact and bright green pine branches make her shine. This Norfolk Island pine really looks like a mini Christmas tree and is therefore so much fun to add during the dark months of the year. Thereby, this cute mini Christmas tree is also suitable for a household with children and pets. This is because the branches do not sting, she is actually even cuddly! This pine has an official name, namely Araucaria heterophylla. She is a true houseplant, yet you can also encounter her in nature. For this, you just have to fly to New Zealand ;). So in recent years, this plant is quite often used as a replacement for the Christmas tree, but also just as an extra Christmas decoration next to the Christmas tree.
We would like to show you how you can turn it into a real Christmas tree. For this, we use the atmospheric photos of Norfolk Island pine fans who got creative in previous years:
Photos: @arja_van_garderen - @wonenaandegentiaan - @groen_stekje - @ohmybookstagram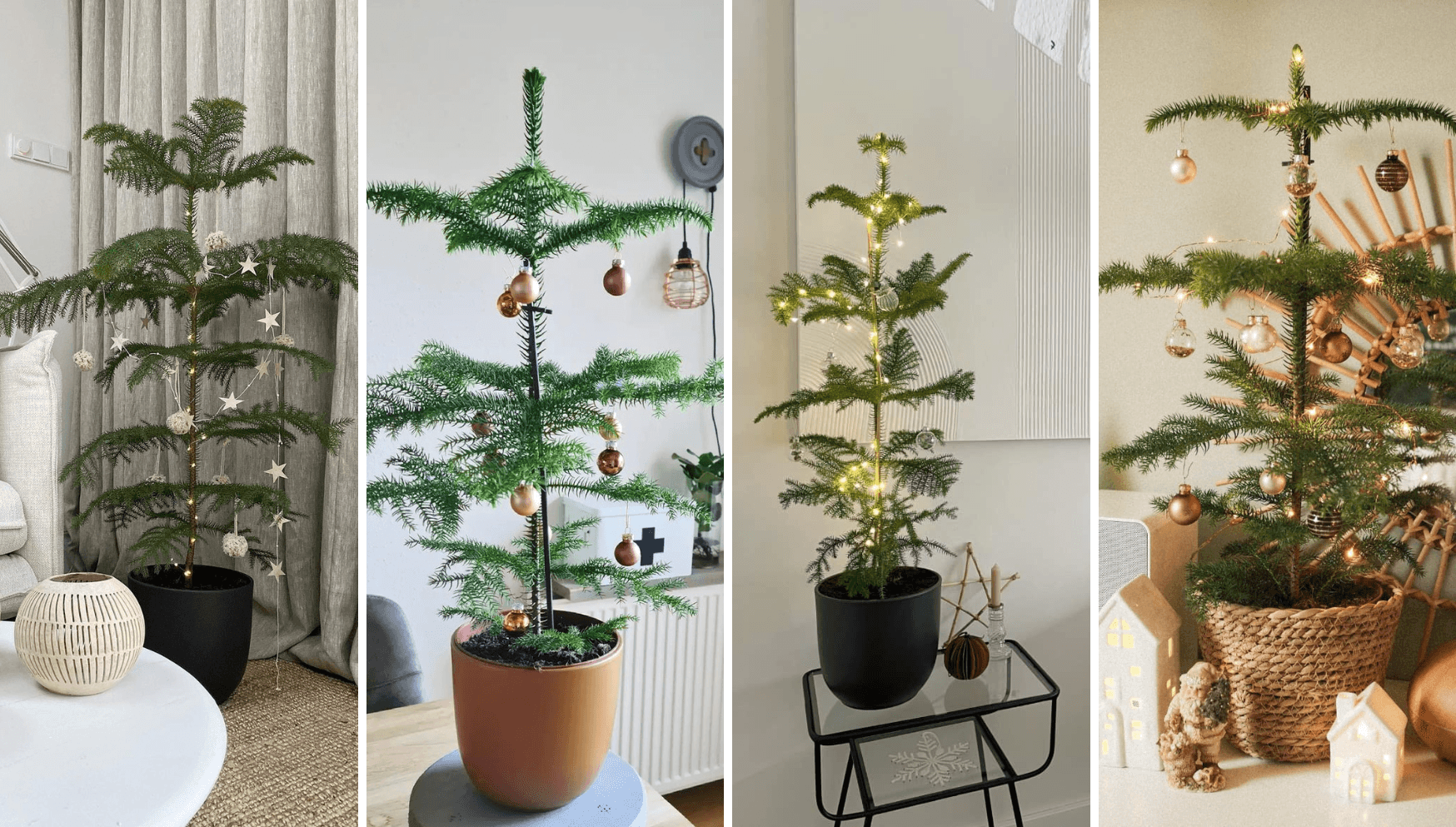 Photos: @huisje_botanica - @nancypolman - @witwonenopnr12 - @lieks_home
When you see these atmospheric photos, you immediately want one of these TOO cute roomies yourself, don't you? Whether you give her the decoration of a Christmas tree or just put her down without any Christmas decorations, she always shines!
Caring for your Norfolk Island pine
The Norfolk Island pine, or Araucaria heterophylla, is easy to care for. She just doesn't like a place where she gets a lot and often sun, because then her soft branches can ''burn''. In terms of water requirements, she is not at all demanding, so an occasional small splash of water is sufficient. It is very important to let the soil dry out between waterings, as she is sensitive to root rot. So you may not need to water her for a few weeks after a big splash. It is also good to take care not to put her too close to your heater or a stove. These are on more often in the cold months and she will not appreciate the warm, dry air.
Sustainable Christmas tree
Besides looking beautiful, these little trees are also sustainable Christmas trees. You can decorate the Norfolk Island pine (Araucaria heterophylla) during the holidays, but after Christmas you can just keep her as a normal houseplant. This is because she is a suitable houseplant and, with the right care, can grow a few centimetres every year. She is not a very fast grower though! Just water her a little more often in summer, as the hot temperatures will cause the faster drying of the potting soil.
The Cedar tree (Cedrus Libani Glauca) is durable, because you can easily put this tree outside after December. You can put her in her pot outside, but you can also place her in full soil. Make sure you give it a semi-shaded spot in the garden or on your balcony, otherwise it might not survive the summer months very healthily. This way, you can simply move this beauty back inside next Christmas and enjoy her beauty once more!
Will you let us know how you place your cedar tree or Norfolk Island pine? We love to see how creative you are! Share a photo of your mini Christmas tree on instagram using #PLNTS or #newPLNTS and who knows, we might share your photo next.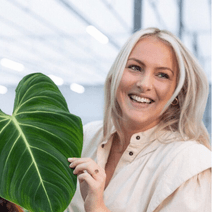 Manon
Manon is the biggest PLNTSlover you'll find. Her love for and knowledge about plants is huge, what makes her a true plant care expert! In her blogs she will share all her plant care tips and hacks with you!
06 agosto 2023
Spedizione gratuita da €75,-
Spediamo le nostre piante in tutta Europa!
Lieferung in ganz Europa

Kostenloser Versand über €75,-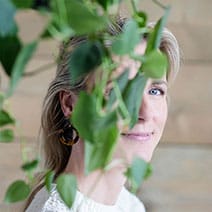 Ciao, sono Emma, la tua guida PLNTS.com!